Slate Roofing Melbourne
Slate is a natural product that has been used for hundreds of years.
---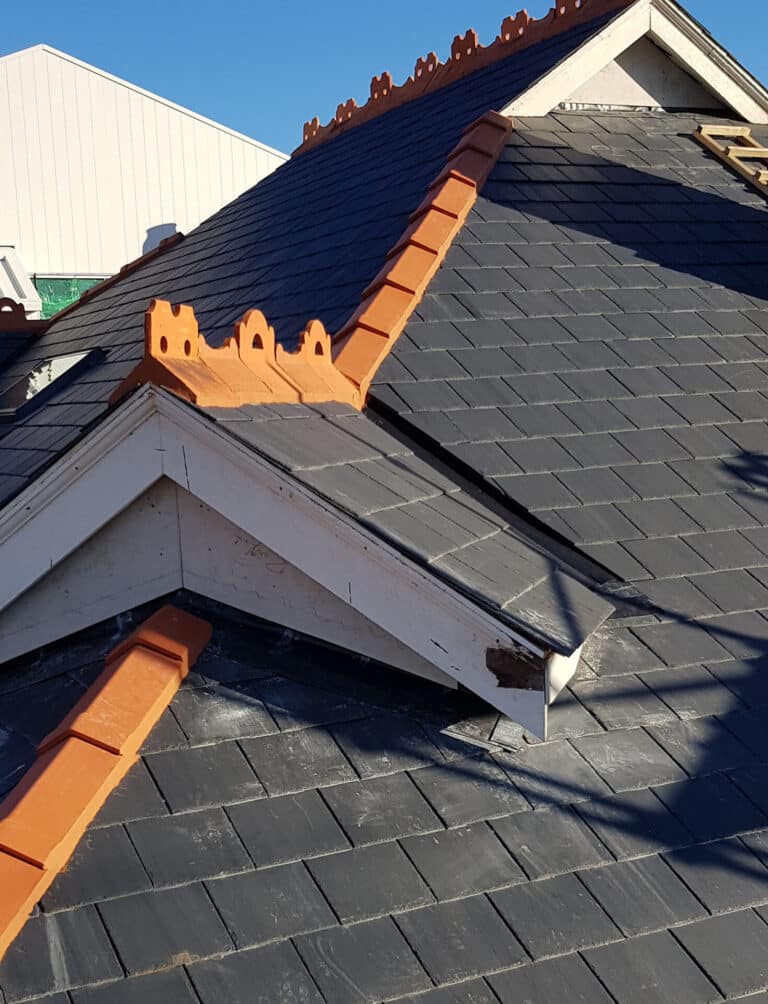 Slate Roofing
Slate is our favourite product to work with. It is a natural long-lasting product that has been used for centuries on buildings and has been mined in different regions of the world. Michael's dad taught him the art of slating and Michael is now passing these skills to his team, which is why we are well known in the industry.
---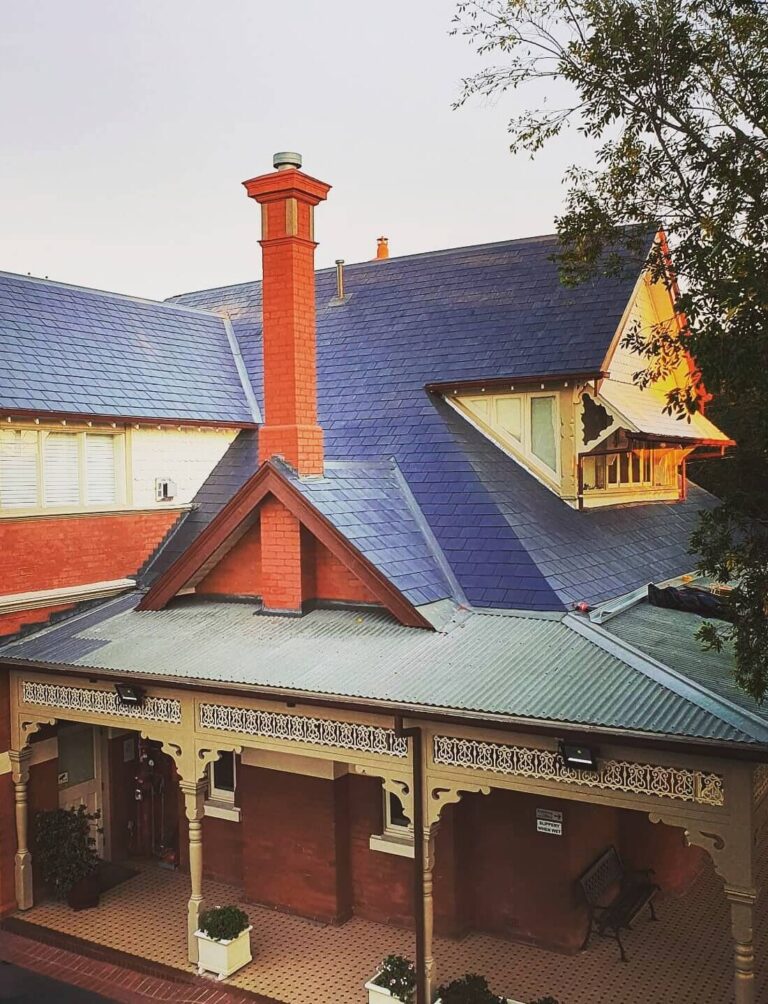 New Slate Roofs
If your replacing a roof or installing a new roof, slate will be guaranteed to last more than 100 years. There are many heritage buildings with slate and we are experts in working with these projects.
With a range of options of slate types, there is a slate to match not only older buildings, but will work in with modern designs.
One of our favourite projects was replacing an Edwardian building roof with Glendyne slate, complete with refreshing the chimneys, timber paint and metal.
---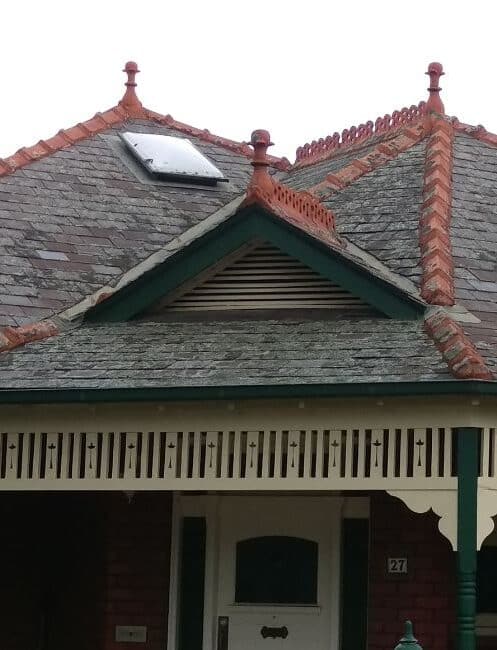 Slate Roof Restorations
From a broken tile, water leaks to full roof restorations, we can restore any slate roof if the tiles are still in a reasonable condition and work within heritage guidelines.
Restoring your roof can prevent issues such as leaks and loose tiles from causing damage to your home.
---
---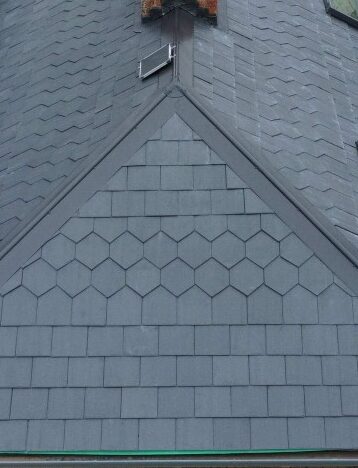 Slate Types
It's a natural product that is mined all over the world. There are three main slates Shamrock installs which are Welsh, Canadian Canadian and Spanish slate. Each slate type is different and is used in both historical and modern architecture. Good slate will last over 100 years, it is durable and will handle extreme weather conditions.
---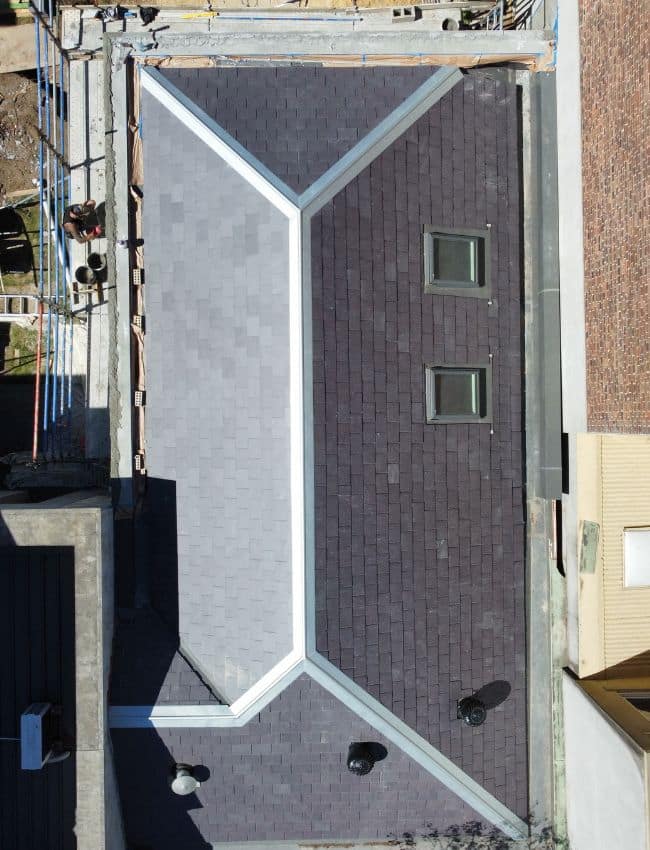 Welsh Slate
Welsh slate has been mined for centuries; it is one of the oldest building materials that is long-lasting. It's an icon of Wales with its first recorded mine dating back to 1413 at Penrhyn Quarry and today is still producing quality slate. Its natural tones work with different colour pallets and is durable with the slates lasting for more than 100 years. Welsh slate is ideal in any condition from the harsh Australian sun to the cold frosty nights. It is also highly resistant to acids, alkalis, and other chemicals.
Welsh slate is available in three different tones, Heather Blue slate, Dark Blue Grey slate, and Blue Grey slate. In the UK, you can see it on buildings such as Buckingham Palace, Number 10 Downing Street and King's Cross Stations and most recently the Netherlands' National Museum was restored with a new Welsh Slate roof. With our own projects, Shamrock installed new Heather Welsh slate to blend in with the original building in East Melbourne
---
---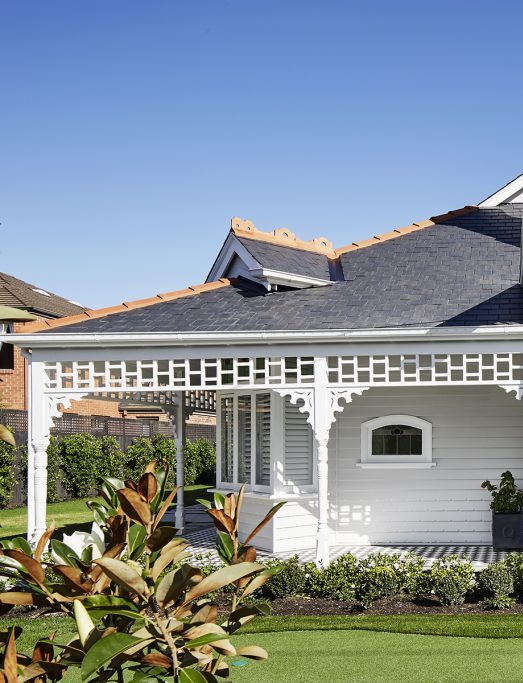 Glendyne Slate
Glendyne slate is a popular choice when it comes to restoring old and heritage homes. Glendyne slate is mined in Saint-Marc-du-Lac-Long, Quebec, Canada. It began to be minded in the early 20th century operated by Europeans, however operations were ceased shortly after the beginning of the first world war. In 1995 a local group of entrepreneurs re-established the mine and have been delivering this quality product to market. Gelndyne slate is dark grey with shades of blue with discrete stratification marked by silts which are usually very fine, they don't affect the schistosity of the slate. With their mining processes to work all year around, the slate is readily available. Glendyne have the environment at the forefront of their operations by being as eco-friendly as possible.
Glendyne slate is a great choice for both the historic buildings and seamlessly blending into modern architecture and we love working with this product. From our project in Carlton restoring an old town house, we inlaid the roof with a beautiful fish scale pattern, which turned this roof into a showstopper piece! A favourite project was an historical house in Malvern, where new meets old. An extension was added to the back of this historical home, with the front having to be restored to the original. We removed the 100 year old slates and recycled them for another project. Making the roof pop, we added picket ridge capping on the ridges which makes the roof really stand out!
---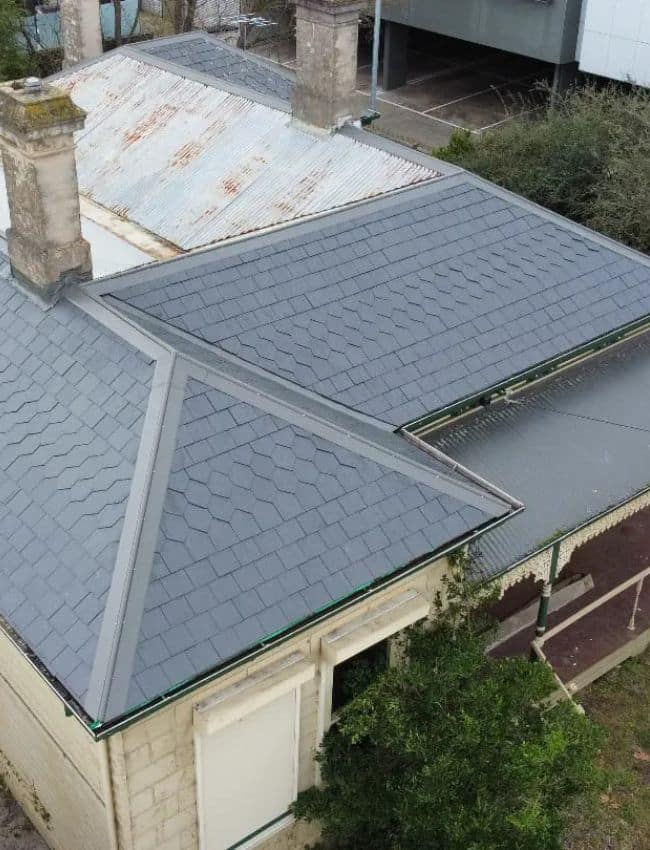 Del Carmen Spanish Slate
Del Carmen Spanish slate quarry is located North-West Spain, Del Carmen. The quarry produces outstanding slate with a deep blue-black colour that will not fade in sunlight, characteristic longitudinal grain, and highly distinctive, faintly rippled texture. Spanish slate is the most cost effective slates available.
Spanish slate has been used in many different projects in the UK and Europe to restore many historical homes, buildings, schools and churches. It's highly durable and will last more than 100 years. Our project in Surrey Hills had a very sad looking roof that needed to be replaced before it was ready for market. We removed and installed the Spanish slate tiles with the fish scale inlay to make the roof pop from the street.
---
---
Brands We Use
Glendyne Slate

Welsh Slate

Del Carmen
---
Case Studies
Slate Projects
View our projects in more detail with different slate projects
---